Products, Supplies, Kibble, Suppliments and Supplies for your Cane Corso. We recommend some of the best - and provide all the ordering resources conveniently here at your fingertips! We hope you can benifit from our years of experience wasting money on ineffective cheap or useless products, and our recommendations for tried and tested great quality items below!
---
As one of our approved families for an About Time Cane Corso, we know that your new puppy's health is your top priority. That's why we strongly  recommend NuVet Plus immune system builder and NuJoint Plus to all of our clients. We have given your pup the best start possible in life, and we highly recommend you continue your pup's health and hip supplement support, from the time they arrive home to you, on both NuVet Plus to support your pup's immune system for optimal health, and NuJoint Plus to help reduce the risk of Hip Dysplasia. NuVet is not available in stores, and is only available to the general public with an order code from an authorized pet professional.

For your convenience, you may order directly from the manufacturer (at up to 50% off what most veterinarians charge)
Online, at this link: www.nuvet.com/36105
By phone, Call: 800-474-7044 and use Order Code: 36105
*SAVE an additional 15% and assure you never run out of NuVet by choosing the "AutoShip" option at check out!
*FREE SHIPPING If you purchase a case (4 bottles, 90 count each) of NuVet & a case (4 bottles, 180 count each) of NuJoint at once you get Free Shipping - Saving you more than $50 over a year in shipping charges.
---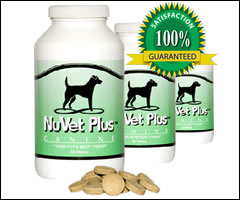 NuVet Plus will protect your new Cane Corso puppy against ailments and toxins (from back yard pesticides, pet food allergies and hormones, toxic formaldehyde in furniture and carpeting, immune threats transmitted from dog parks and the vet's office, etc), while maintaining a beautiful coat and healthy skin.
NuVet Plus can help prolong the life of your dog and can help eliminate many ailments, including Allergies, Skin and Coat Problems, Scratching, Itching, Biting, Hot Spots, Arthritis and Joint Problems, Low Energy Levels, Diabetes and Liver Problems, Cataracts and Tumors, Digestive Problems, Tearing, Heart Disease, Premature Aging.
NuVet Plus is not just a vitamin. It's an immune system builder with a precise balance of vitamins, minerals, omega fatty acids, amino acids and high-potency antioxidants. That's why it works so well through all three stages of a dog's life. For younger dogs (under 2 years old), it strengthens their immune system, while building and strengthening the cardiovascular, skeletal and nerve systems. For dogs in their prime (age 2-8), it improves the luster of their skin and coat while protecting against allergies, skin and coat problems, staining from tears, digestive problems, etc. For older dogs (over 8 years old), it helps protect against, tumors, premature aging, cataracts, heart conditions, diabetes and many types of cancer, while extending the life and improving the vitality of many dogs.
Click here to ORDER NuVet Plus for your pup's health and immune system!
---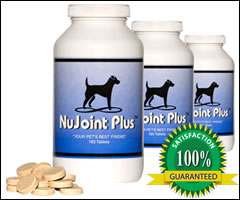 NuJoint Plus is a premium nutritional natural anti-inflammatory hip and joint therapy supplement. Hip Dysplasia can be a serious concern in any large breed dog, despite the best of care and ideal breeding. NuJoint Plus is a nutrient rich product that goes to the source of the problem, combating hip dysplasia, arthritis, osteoporosis, joint inflammation, and joint and bone ailments with a wide variety of natural healing ingredients designed to be bio-digestible.
NuJoint Plus is a carefully formulated nutritional pet supplement, using only the highest quality pharmaceutical, human grade ingredients that are specifically compounded in a FDA approved laboratory for maximum potency and effectiveness.

NuJoint Plus uses a cutting edge formula that targets disease causing pathogens and free radicals by infusing the cellular framework of your pet's metabolism with precise percentages of Glucosamine, Chondroitin, Methylsulfonylmethane (MSM), and Vitamin C.
Click here to ORDER NuJoint Plus for your pup's hips and joints!
---
RuffWear Performance Dog Gear has excellent durable quality for your Cane Corso! Find Outdoor Gear, Jackets, Coats, All Season Paw Protection Dog Boots, Dog Packs, Lifejackets, Leashes, Joring Harnesses, and more!
RuffWear, Tested and Recommended for Cane Corso Quality Outdoor Gear!
---
Neem Pet Shampoo/Products

- The BEST all natural shampoo & products for your Corso.

Neem shampoo cleans without drying the skin and coat, no matter how often you bathe your dog!

Neem Ordering Resource Links: • Order TheraNeem Pet Shampoo from Amazon •
---
BiteNot Collars - A great alternative to elizabethan (cone) collars for an injured pet.
---
Health Care & Pet Insurance:
We Recommend Embrace Pet Insurance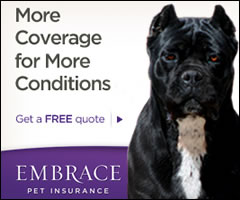 We Recommend Pet Assure Veterinary Discount Program


With the rising cost of vet care, a good pet insurance plan is a simple and low cost way to give yourself the peace of mind knowing you will never have to make the call between getting your pet needed care ... and not being able to afford a big vet bill.
We breed very carefully with every possible effort to produce a healthy pup, however sometimes even with the best of intentions things go wrong. As one of the families approved to take home one of our pups we are confident you are going to take wonderful care of them, but despite the best of care accidents do happen. We do cover every one of our pups with a full guarantee, providing for a refund or replacement in the event that our pup turns out to not be the healthy happy dog we tried to provide you; however, our guarantee does not cover any vet expenses you may incur for your pup - this is where pet insurance comes in. In the event that something goes wrong, or an accident happens, make sure you won't have to choose between your pet's health and your finances.
See how simple it can be to have peace of mind for your Cane Corso:
---